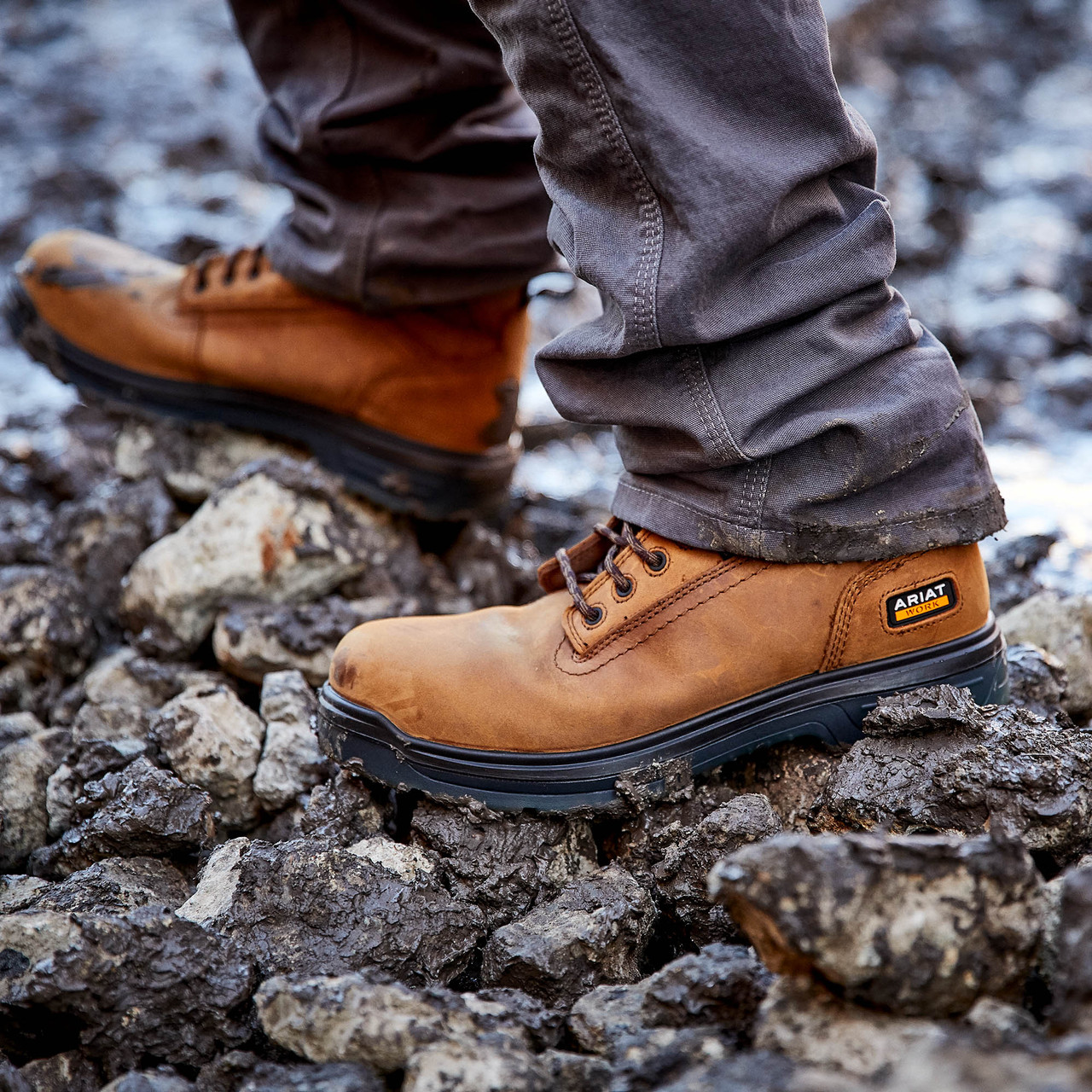 When you're looking for waterproof work boots there are some important features to be looking for.
A membrane that is breathable and waterproof. A breathable and waterproof membrane, like Gore-Tex, will ensure your feet are dry while allowing the moisture to escape and preventing your feet from becoming too hot.
For a durable build, look for boots that are made of durable materials, like synthetic or full-grain leather which are able to withstand heavy usage and extreme conditions.
An outsole that is slip resistant: The sole will give you extra stability and traction on slippery and wet surfaces.
Support and fit The boots should fit properly and offer good assistance for the feet. This can help avoid injury and fatigue.
Brands Some of the top waterproof boot brands for work comprise Timberland, Red Wing, and Rocky.
Examples of waterproof boots include:
Timberland Pro Men's 6-" Pit Boss Steel Toe:
These boots are constructed with premium leather. They feature a breathable and waterproof membrane, a slip-resistant sole, a composite safety toe, and a steel toe to provide additional security.
Red Wing Heritage Men's Waterproof Moc Toe Boot with Insulation:
These boots are constructed from full-grain leather. They feature a waterproof and breathable membrane, an insulation layer for warmth, and a non-slip outsole,
Rocky Men's Core Waterproof Outdoor Boot:
These boots are constructed of full-grain genuine leather. They come with a waterproof and breathable membrane, insulation to keep you warm, your feet warm, and a non-slip outsole.
When it comes to working in wet or muddy conditions, having the right footwear is essential. Waterproof work boots are a must-have for anyone who works in construction, landscaping, or other outdoor industries. These boots keep your feet dry and protected, ensuring that you can work comfortably and safely in any weather. Here is your guide to the best waterproof work boots on the market.
WATER-RESISTANT WORK BOOTS VS WATERPROOF
Water resistance and waterproof work boots might appear similar, however, there is one major difference between the two. Work boots that are water resistant are made to resist water entry to a certain degree however, they are not totally waterproof. They can keep your feet dry during mild rain or splashes however, they may not last to heavy rain or even deep water.
Work boots that are waterproof on the other hand are made to stop water from entering. They are constructed with waterproof materials, for instance, an ointment or membrane that is waterproof and are then protected from water getting into the boot, therefore the only boot you need for all situations is this one. They ensure that your feet remain dry throughout any weather conditions that include heavy rain as well as deep water.
When deciding between water-resistant boots for work it is crucial to take into consideration the conditions where you'll be working. If you'll be working in muddy or wet conditions often, it's recommended to choose waterproof boots than pull-on work boots to guarantee complete protection. If you're working in the light drizzle or splashes, water-resistant boots might be enough.
It's important to note that waterproofing could degrade as time passes, making it essential to maintain them regularly and examine the waterproofing, as well as clean and condition the boots.
You can purchase the most durable waterproof boots at Crescentmodesto. We have such a wide range of styles and sizes of boots with waterproof properties that we're certain you'll find the ideal workplace boots right here. Here are some outstanding waterproof boots that offer your feet the best protection and comfort while working.
Waterproof Boot Durability
Durability is essential to the best shoes for work. It's impossible for anyone else to buy boots that aren't robust. Durability is crucial when it comes to comparing work boots as they guard your body against the dangers that you encounter at work. The boots are superior to the materials they were made with. Leather boots made from full-grain provide superior comfort and water resistance, as well as durability and moisture resistance. Nylon, rubber, and canvas are good choices. Unfortunately, they're more affordable than leather. In addition, the material that is used to make stitching seams for boots must be safe.
Waterproof Membrane
A waterproof membrane is guaranteed for the whole year to keep out water. Every boot that is going to be outside all day long, and on difficult terrain, requires an outsole that's going to last. Built with a weatherproof TPU outsole that is extremely light and abrasion-resistant This boot is guaranteed to stand up to any abuse that you throw at it.
Breathability, Waterproof Work Boots
Work-wear that is waterproof must be comfortable. This is why it is essential to let moisture escape and not let it in. It is possible for sweaty feet to be as wet feet. Work boots made of leather are more durable and comfortable.
The most comfortable work boots for you
The most comfortable boots must be in good working order. This should be the right design or else the comfort features will be lost. The comfiest work boots I've used were Keen Utility Cincinnati. This hybrid blends wedge soles and air-inhaled Midsoles made of polyurethane that feel comfortable throughout the day. I am 200+. My favorite boots are for shows such as World of Concrete where we must stay on the road longer than normal. In 2023 and beyond, men have the option of choosing the dark brown color of their skin.
Safety Toes
Steel toes are tougher and heavier. The alloy shoes can be lightweight but they're not suitable in cold weather. Composites are more affordable and do not experience the same cold temperatures as their welding counterparts. Some waterproof boots do not have safety laces.
How Can I Protect My Work Boots from water?
If you've got good-quality boots that work, but aren't waterproof, then you can make use of waterproof lubricants, waxes polish, and lubricants to shield against the effects of water. The types of boots will vary based on the material used in the boots.
This is why your feet get wet in waterproof boots
These waterproof shoes work very nicely and have a waterproof lining. Adding waterproof fabrics to the material is possible. However, the tongue area of an ordinary boot is probably a place in which water can be found when you are standing in water. How to keep moisture away from work boots? Those that want maximum water protection should use a special water boot like Grunden's Deck Boss.
The 3 Most Effective Rubber Work Boots
If you are working in harsh weather conditions It is best for you to put on rubber shoes. Rubber boots will protect the person from drowning and help you stay working for longer. They also offer safety protection against dangers of all kinds. Rubber boots literally save our lives while working with electrical appliances. They also shield us from falling debris and prevent moving objects. They are able to withstand extreme temperatures and offer excellent comfort.
HERE ARE THE TOP OPTIONS FOR WATERPROOF WORK BOOTS:
Tactical EVO 8" Waterproof Side Zip Boot
The Tactical EVO 8" Waterproof Side Zip Boot is a high-performance boot designed for military and law enforcement personnel. The boot's 8-inch height provides added coverage and support for your ankles, while the side zip allows for easy on and off. The waterproof construction keeps your feet dry in wet conditions, perfect for any mission or operation.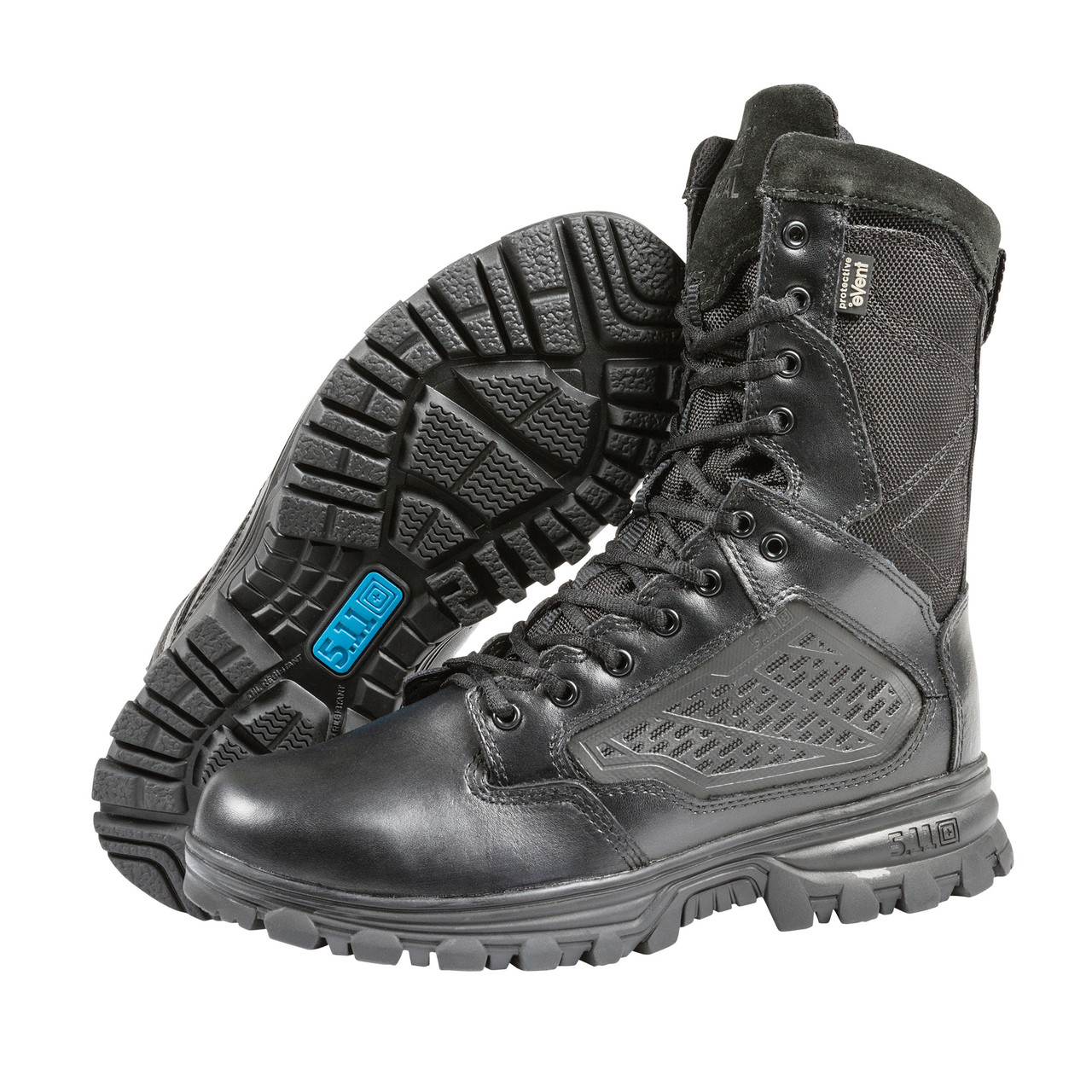 The outsole is made of slip-resistant rubber that provides excellent traction on various surfaces. The toe and heel are reinforced for added durability and protection. The EVA midsole offers cushioning and shock absorption for comfort throughout the day.
The upper is made of durable full-grain leather and synthetic materials that can withstand harsh conditions. The breathable mesh lining keeps your feet cool and dry, while the gusseted tongue keeps debris out. The collar and tongue are padded to give extra comfort and help.
The Tactical EVO 8" Waterproof Side Zip Boot is built to last, with rugged construction that can withstand the rigors of combat and tactical operations. It's a reliable choice for the military, law enforcement, and first responders who need a dependable boot that can keep up with their demanding missions. It comes with a variety of color options to fit your taste and needs.
Tactical A.T.A.C.® 2.0 8" Storm Boot
The tactical A.T.A.C.(r) 2.0 8" Storm Boot is a high-performance boot specifically designed for police and military personnel. The boot's 8-inch high gives you extra coverage and stability for your ankles. Additionally, the waterproof construction will keep your feet dry during humid conditions, which makes it ideal for any task or mission.
The outsole is composed of slip-resistant rubber, which provides great traction on all kinds of. The heel and toe are reinforced for extra toughness and safety. The EVA midsole cushions provide shock absorption to provide all-day ease of use.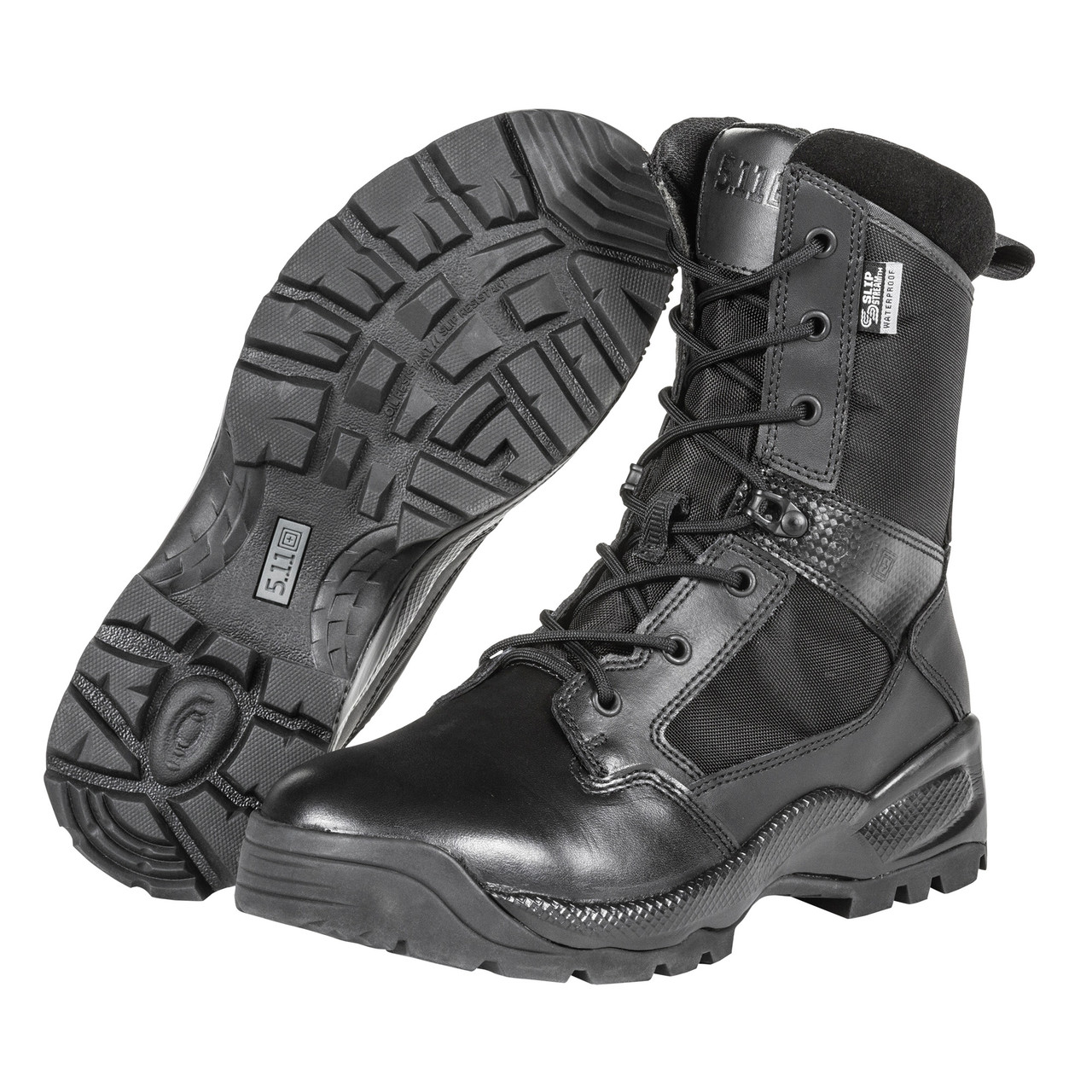 The upper is constructed of high-quality waterproof leather with a durable finish and synthetic materials that can withstand the harshest conditions. The mesh lining is breathable and keeps your feet dry and cool, the tongue is gusseted, and the gusseted collar keeps any debris out. The collar and tongue that are cushioned offer extra comfort and support.
The tactical A.T.A.C.(r) 2.0 8" Storm Boot is built to last, featuring robust construction that can endure the demands of tactical and combat. It's a dependable option for police, military, police, and first responders who require an effective boot that can cope with the demands of their tasks. The boot is offered in various colors to suit your preferences and requirements and comes with the A.T.A.C.(r) 2.0 technology that helps provide stability and assistance in all situations.
Waterproof Composite Toe Work Boot
The Rebar Flex 6" Waterproof Composite Toe Work Boot is a durable and reliable work boot designed for construction and industrial work environments. The boot features a waterproof composite toe that provides protection from impact and compression hazards, while also keeping your feet dry in wet conditions. The 6-inch height provides additional coverage and support for your ankles.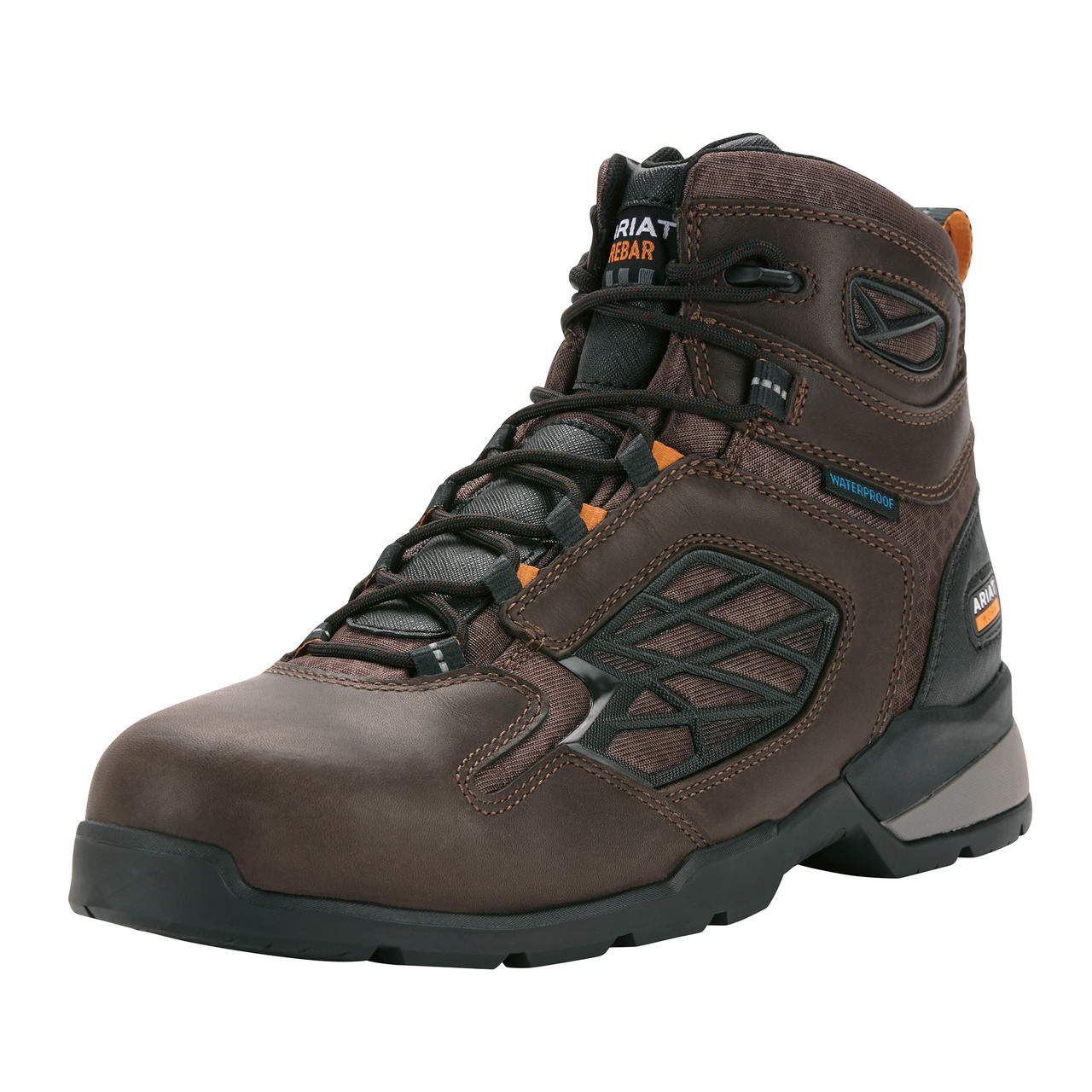 The flexible design of the Rebar Flex allows for comfortable movement and easy break-in. The outsole is made of slip-resistant rubber for added traction on various surfaces.
The boot is built with a durable upper made of leather and synthetic materials that can withstand harsh work conditions. The Rebar Flex 6" Waterproof Composite Toe Work Boot is a great choice for anyone in need of a sturdy and waterproof work boot.
Waterproof Wedge Steel Toe Work Boot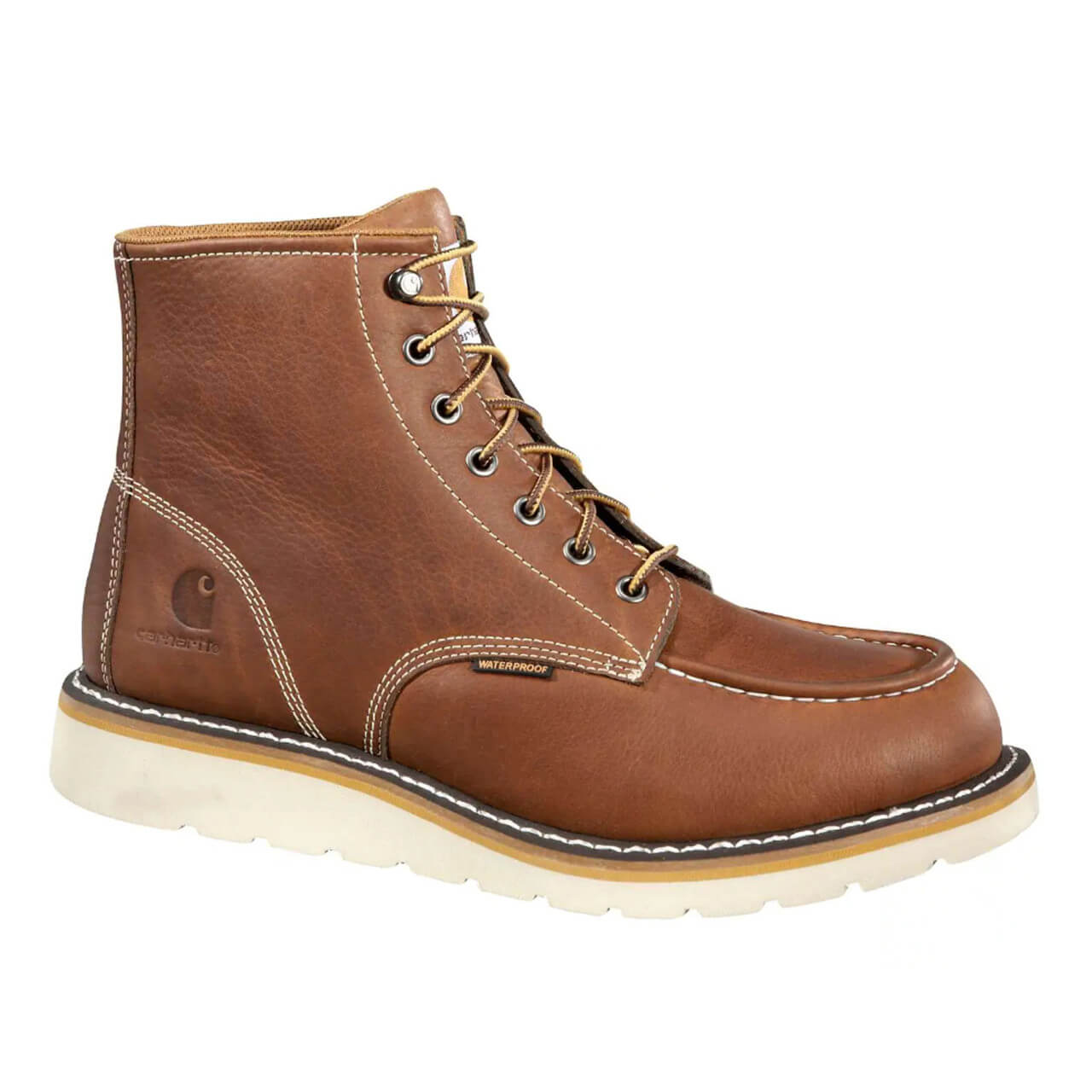 This 6" Waterproof Wedge Steel Toe Work Boot in Tan color is a kind of work boot specifically designed to safeguard the toes and feet of those working in industrial or construction environments. The steel toe boots are a waterproof design that keeps feet dry with a steel toe that protects against falling objects or heavy machinery and a wedge-shaped outsole for extra comfort and stability. The 6" high height adds protection to the ankle as well as the legs. The boot is also available in a tan shade which can be beneficial in certain workplaces where color coordination is essential.
Turbo Waterproof Carbon Toe Work Boot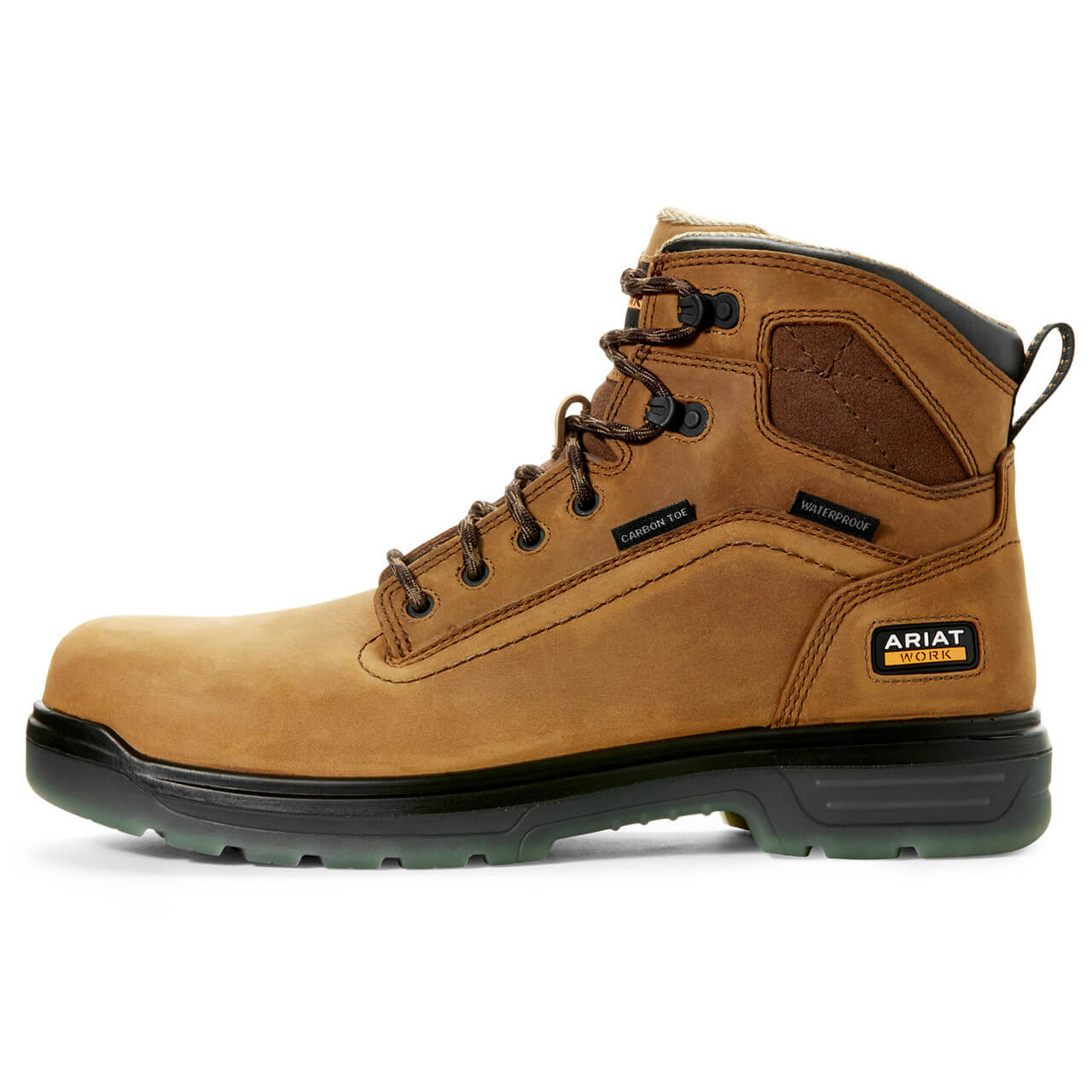 The Ariat Insulated Work Boots or turbo waterproof carbon toe work boots are a versatile and rugged option for those who work in colder environments. Made with premium full-grain leather, these boots are both durable and comfortable. The insulation provides added warmth to keep your feet warm in cold temperatures. The Duratread outsole is designed to provide maximum wear resistance and flexibility, making these boots suitable for a variety of work environments. The advanced support and cushioning of the ATS technology ensure that your feet stay comfortable all day. The boot also features a steel toe, which provides added protection for the toes. Overall, the Ariat Insulated Work Boot is a great choice for anyone who needs a warm and sturdy work boot that can handle the toughest conditions.
6-Inch Waterproof Boots
Do you want lightweight and waterproof work shoes? These 5.11 XPRT 6-inch water-resistant boots aren't exactly rough in appearance, however, they are cushioned with advanced technology as well as a Vibram Ananasi outsole which is durable, lightweight, and comfortable.
These waterproof work boots are insulated and have an integrated membrane that offers maximal protection from water. The XPRT 6-inch water-resistant boots feature an odor-resistant material and shock-mitigation technology to increase support. They also feature a sturdy-grip tread pattern, making the waterproof XPRT shoes among the most comfortable work boots.
When it comes to waterproof work boots, it's important to do your research and find the right pair for your specific needs and job. But with so many great options available, you're sure to find the perfect pair to keep your feet dry, comfortable, and protected on the job.